In the face of modern-day building challenges that include tight construction schedules, limited budgets and increasingly strict mandates around sustainable design, architects all over the world are embracing the Sprung structure as a creative and permanent solution for meeting their clients' needs. At Sprung, we help architects create innovative, memorable environments that truly stand out. So much so, we have developed a course where architects can earn AIA continuing education credits.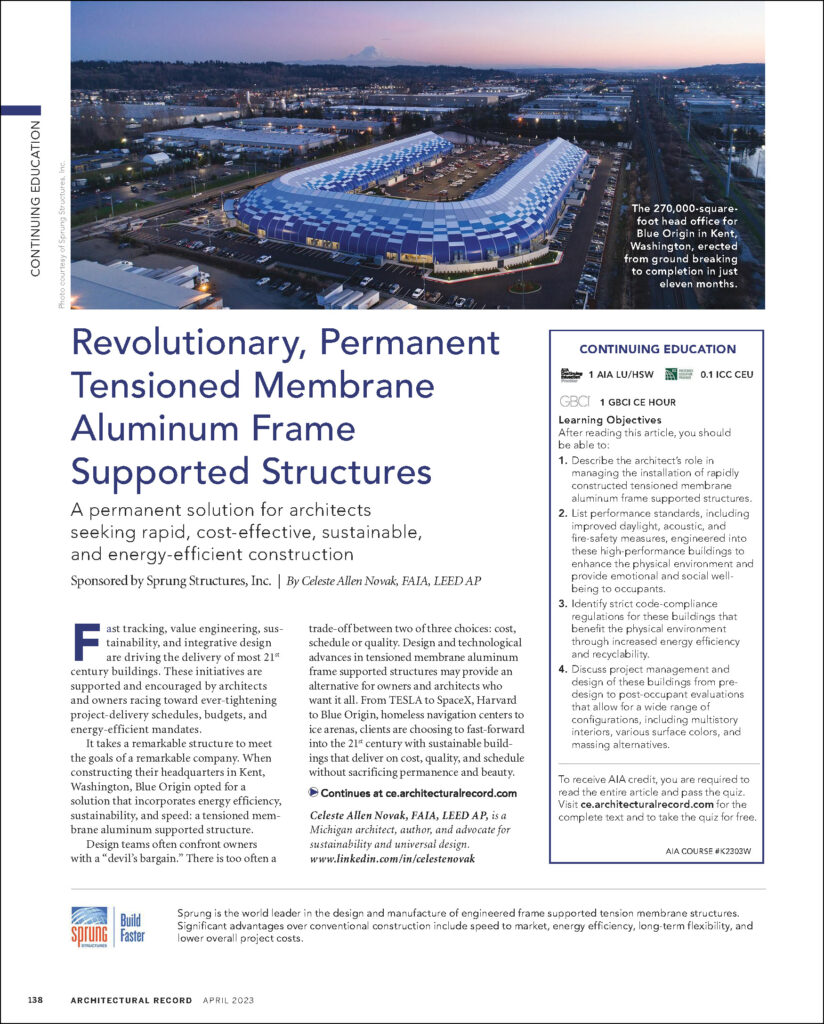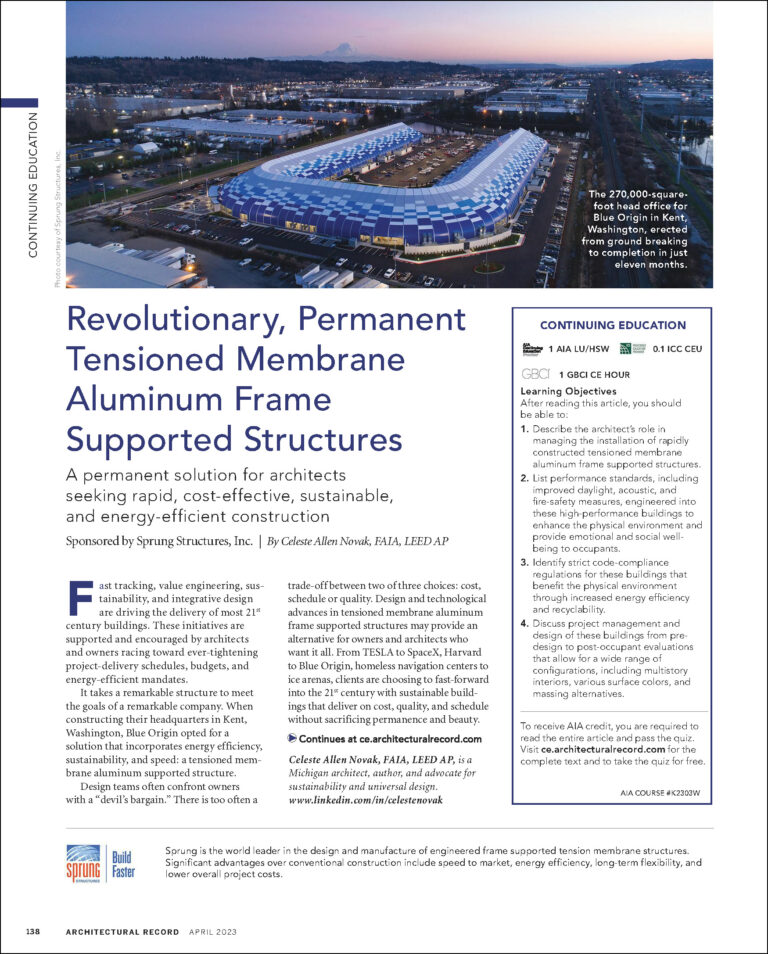 Thanks to the Sprung structure's clear-span design, architects have a great deal of freedom when it comes to envisioning, planning and creating layouts for their customers. Unhindered by structural supports, the wide-open interior of a Sprung structure acts as a blank canvas, offering a multitude of possibilities for creative solutions tailored specifically to a client's needs.
Sprung structures also come with a wide variety of features and accessories that can further enhance and personalize a space. From doors, windows and daylight panels to connecting corridors, graphic elements and a range of membrane colors, our structures include optional accessories  —both decorative and functional—that help to serve an architect's vision. We also offer visualization tools, including renderings, animations and videos, to help conceptualize your project and present it to your clients.
Cost-effective and built to last
At Sprung, we keep more than two million square feet of inventory on-hand, ensuring our structures can be shipped immediately and built much faster than conventional buildings. This expediency, combined with the energy-efficiency of our structures' air-tight, tensioned membrane system and performance insulation, ensures cost savings not only during the construction process, but throughout the life of each structure.  
Sprung structures also bring long-term value through their versatility and adaptability. The fire-safe exterior membrane is designed to endure even the harshest of climates, and the lightweight aluminum frames are bolted, not welded, making it relatively easy to reconfigure, reuse or even move a structure when needed.
From Tesla and Space X to Harvard, Blue Origin, NASA and more, leading organizations in virtually every industry have chosen Sprung's membrane-covered aluminum frame structures to serve their various needs. 
Classified by the International Building Code as a Type 11B or Type V construction, Sprung structures are currently in operation in more than 100 countries. Because of this international reach, the Sprung team has extensive knowledge of international buildings standards, and our structures can be designed to meet nearly every local standard. To learn more, please visit our Building Codes and Standards