Frequently Asked Questions
Here, we answer some of the most frequently asked questions about our product design, features and performance, and what distinguishes Sprung structures from other tension fabric buildings.
What architectural features of the building make it superior?
As evidenced by more than 12,000 installations worldwide, Sprung structures generate lower capital costs, lower energy demands, and lower life-cycle costs.
Built with an up to 25-year guaranteed performance architectural membrane and an up to 50-year guaranteed performance non-corroding aluminum substructure, Sprung structures are known for their exceptional durability and proven long-term performance.
What is a Sprung Structure?
Through invention, design and continued innovation, Sprung's patented membrane structures are the result of decades of research and development. Each Sprung structure features extruded aluminum arches that are integrally connected to an all-weather outer performance architectural membrane. This specialized membrane is certified as flame-retardant.
We engineer our structures to withstand high wind loads and to shed snow. They are expandable and relocatable. They can be fitted with daylight panels, stylish windows and doors, and glazing walls (glass curtain walls) to allow more natural light to penetrate the structure.
With over a century of experience, Sprung delivers the most reliable, versatile and technically advanced structures available in the world.
What about vandalism and security?
Sprung structures are located in some of the world's most populated regions, and perform extremely well with minimal vandalism.
Our architectural membrane is made out of an interwoven, reinforced ripstop fabric, which makes it highly resistant to tearing and ripping, even if forcefully punctured.
As is the case for any building with windows, properly securing it is the responsibility of the building's owner or manager. Protecting people, property and information often requires effective screening practices, a security presence, surveillance systems, alarms, motion detectors, proper lighting and other security measures.
An optional 8½-foot-high, vandal-proof, hard-wall shield system is available for extreme security-sensitive applications.
Can a Sprung structure be air-conditioned or heated?
Sprung offers a truly effective insulation system, using eight- or nine-inch R-25 and R-30 fiberglass blanket insulation finished with an attractive tensioned interior membrane. This keeps warm air in and cold air out.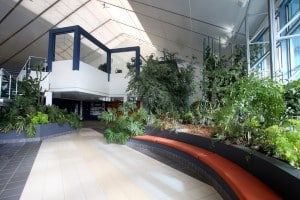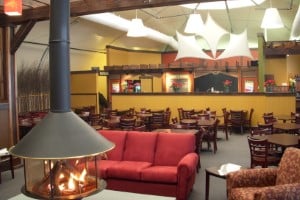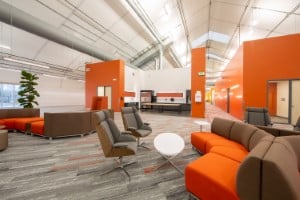 What color choices do I have for the membrane?
There are many color options, all of which are rated colorfast and weatherproof. You can even mix and match colors at no additional cost by choosing an attractive wainscot. Colorful graphics, including decorative accent lines and logos, are easy to apply to the Sprung tension fabric membrane.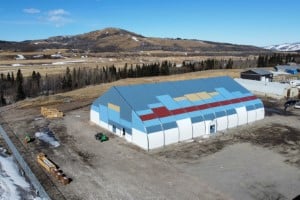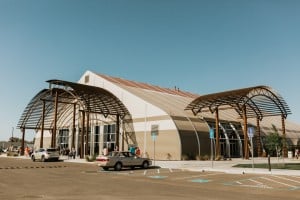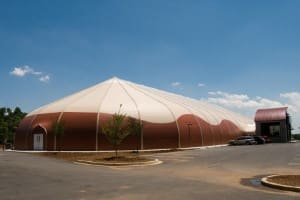 How are the acoustics?
Sprung structures have been used successfully on hundreds of acoustically sensitive applications. The curved profile of the structure creates an interior that is free from conventional flat walls and corners. The soft interior tensioned membrane walls effectively absorb sound, resulting in outstanding acoustic properties.
Does a Sprung structure meet the building code?
Our Sprung structures are designed to meet most building code requirements worldwide.
When you are ready to proceed with ordering a Sprung building, we will supply a comprehensive permit package, complete with drawings and supporting calculations, all stamped by a licensed engineer who is certified in your region.
Who oversees the project?
Once a contractor is chosen, a Sprung Technical Consultant will be supplied on-site to provide advice on the best method of structure assembly and erection, ensuring our commitment to quality is never compromised.
How long will a Sprung structure last?
Sprung structures are engineered for performance and designed for multi-use applications. Our structures are built to last, withstanding extreme weather conditions and extreme situations.
The aluminum substructure has an indefinite life expectancy and a 50-year pro-rata guarantee. Our performance architectural membranes have pro-rata guarantees of up to 25 years and do not need to be re-tensioned.
Can we change or add to the structure in the future?
Yes. The Sprung structure is a prefabricated, modular building design. This allows for easy expansion (by adding modules) or easy reduction (by removing modules), as often as you need.
Can a Sprung structure be attached to an existing building?
Yes. The Sprung structure can easily be attached to an existing building through our sealed connecting corridor system, available in widths of 10′, 14'3″ or 19'2″ (3, 4.4 or 5.8 meters). The structure can also be butted up directly to a conventional building.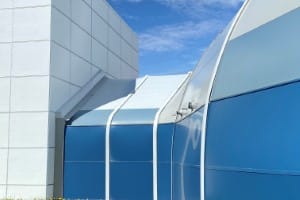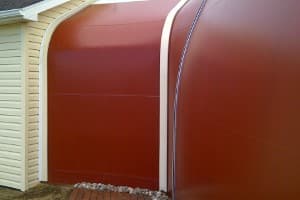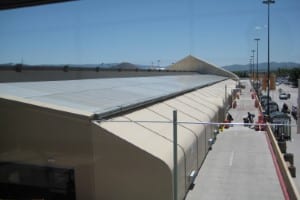 How easy is it to relocate a Sprung structure?
One of the unique characteristics of the Sprung structure is that it can be dismantled, reconfigured and re-erected for almost any number of applications during the life of the structure. This is an easy and cost-effective solution.
Are engineering costs included?
Yes. You do not need to budget anything extra for the engineering of the structure itself, since it is included in the price of your Sprung structure.
Could we build a conventional metal building that costs less than a Sprung structure?
It is very unlikely that you could find a more cost-effective use for your building budget, and a metal building would take longer to design and build. Please refer to our Comparison Matrix for more details.
How fast can a Sprung structure be erected?
Our inventory consists of up to 2 million square feet (185806.1 square meters) of product for immediate delivery.
When appropriate soil conditions exist, no foundation is required for structures up to 160 feet (48.769 m) wide. Little or no ground surface preparation is required.
Structures can be erected at a rate of up to 1,000 sq. ft. (93 sq. m.) per day for insulated structures, and up to 2,000 sq. ft. (186 sq. m.) per day for non-insulated structures.
The entire project takes a fraction of the time compared to conventional construction alternatives. Please refer to our Comparison Matrix for more details.
Is the building energy efficient?
The Sprung building system outperforms other types of construction methods, leading to lower operational costs year-round. Our optional energy efficient fiberglass blanket insulation package performs extremely well. There is almost zero air leakage in a Sprung.
If you have other questions not answered here, please contact us to discuss how we can help you build faster.